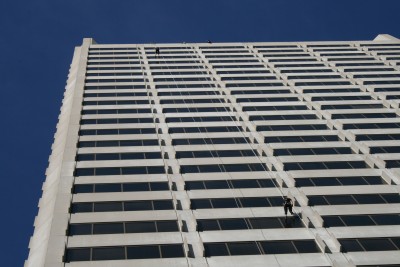 On Wednesday, September 21,  three incredibly brave Staff Officers from the Power Workers' Union (PWU) literally went "over the edge" in an effort to raise money for kids in need.  The 2016 Easter Seals Drop Zone is a unique national fundraising concept designed to deliver a real exhilarating experience for those brave enough to participate. The PWU "fundraising superhero team" consisted of Suzanne Hotson, Jennifer Whyte, and Scott Andrews.  They took up the drop-zone challenge and rappelled down from the top of the 32 floor RioCan Yonge Eglinton Centre 2300 Yonge St. in Toronto.  Each one of them stepped out of their comfort zones and overcame their fears in order to help young Ontarians with physical disabilities succeed.
"It's really tall," said Scott Andrews with his adrenalin still pumping upon completing the thrilling feat.  "You really don't realize the amount of trees that are growing in the city, from up there you can really see a long way."
It was a perfectly clear and sunny day.  Ideal for both the participants and the spectators who gathered below.  But the real winners today were the kids.  Easter Seals helps with financial assistance for specialized equipment and special educational resources for families.  They also provide fully accessible camping and recreation for young Ontarians who would not otherwise have that opportunity.
The PWU fundraising team successfully raised $5,506 towards this worthwhile cause by collecting pledges from co-workers, family and friends.  If you would like to participate by making a pledge or participating yourself, visit the Easter Seals Drop Zone website http://www.thedropzone.ca.