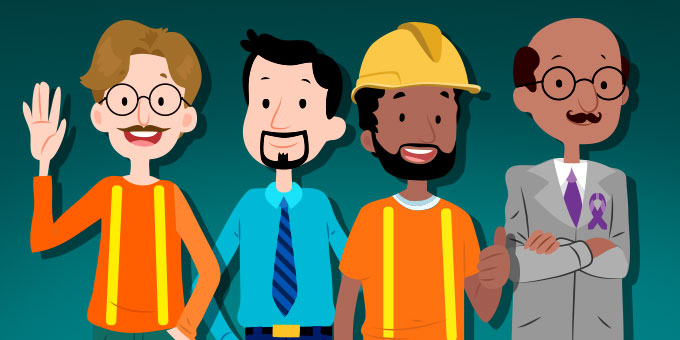 PWU Members Participate in the Movember Campaign
For the last 14 years, during the month of November, men have been letting their facial hair grow and grooming it in attention-grabbing ways to raise funds and awareness for men's health issues.
Upon being founded in 2003, the "Movember" fundraising initiative began in Australia and quickly gained popularity around the world, encouraging men to grow and flaunt their facial hair to raise money for men's health issues, such as prostate cancer and testicular cancer. The long moustaches and beards were symbolic of the hair that would typically be lost through cancer treatment.
With the help of the internet and the advent of social media, this campaign has grown and now includes many more ways to participate. The Move campaign asks people to set a goal of how far they'll walk, run, cycle, swim or row for the month and to seek pledges from people who support their move. There's also the Movember Store with all kinds of "Mo Apparel" for everyone. 100% of the proceeds from every purchase go directly to the Movember Foundation. An estimated $600 million has been raised over the past 14 years. The funds raised are now not only used to combat cancer but also fund men's mental health awareness programs and suicide prevention and awareness programs. The cause has grown by leaps and bounds, and has made progress in raising awareness towards men's health issues and in stopping men from dying too young.
The Power Workers' Union (PWU) has been using its social media presence on Twitter and Facebook to encourage member participation in the Movember campaign. While it may be too late for you to start growing your "Movember Moustache", it's not too late to pledge your support for the Movember campaign.