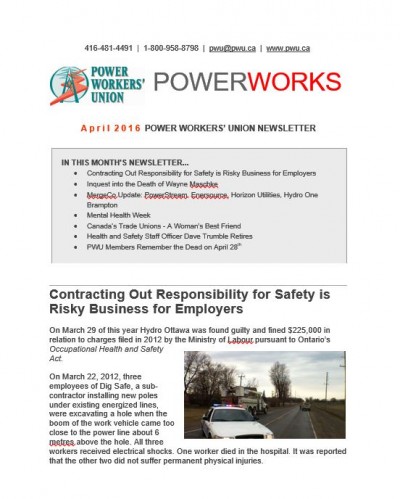 Contracting Out Responsibility for Safety is Risky Business for Employers 
On March 29 of this year Hydro Ottawa was found guilty and fined $225,000 in relation to charges filed in 2012 by the Ministry of Labour pursuant to Ontario's Occupational Health and Safety Act.
On March 22, 2012, three employees of Dig Safe, a sub-contractor installing new poles under existing energized lines, were excavating a hole when the boom of the work vehicle came too close to the power line about 6 metres above the hole. All three workers received electrical shocks. One worker died in the hospital. It was reported that the other two did not suffer permanent physical injuries.
Hydro Ottawa, the Local Distribution Company, pleaded not guilty and was convicted after a trial on the following charges under the Act:
·       Failing to ensure the boom was not brought too close to the power line.
·       Failing to ensure a competent worker was stationed to warn the vehicle operator if the boom came too close.
·       Failing to take every reasonable precaution to prevent hazards to workers from energized electrical equipment, installation and conductors.
Hydro Ottawa was fined $225,000 plus an additional 25 percent victim surcharge, required under provincial law. Dig Safe pleaded guilty to similar charges in November of 2013 and was fined $125,000 plus the 25 percent victim surcharge. Local papers in Ottawa reported that Hydro Ottawa stated, in a letter to the Mayor of Ottawa, that they do not agree with the verdict or the penalty. Hydro Ottawa claimed to have been duly diligent in their evaluation and selection of qualified and experienced contractors as well as alerting those contractors to the hazards of working near energized power lines and in enforcing the use of safe practices to protect workers. Hydro Ottawa is reviewing its options in regards to this matter.
31 year old Barry Robertson died of his injuries four days after the 2012 incident and is survived by his common law partner, child and step-child.
In a similar incident in November of 2015, an employee of PGC Services was electrocuted while operating hydrovac equipment (commonly referred to as a sucker truck) for new hydro pole installations in Vaughan, north of Toronto. The contractor was performing work for PowerStream, the Local Distribution Company, when the boom came into contact with a high voltage power line. The employee was rushed to hospital but was later pronounced dead.
In a joint statement Vaughan Mayor and PowerStream Board Chair along with Brian Bentz, the PowerStream CEO said, "PowerStream and its employees are deeply saddened by this loss of life, our thoughts and prayers are with his family, co-workers and friends at this most difficult time."
24 year old Jake Gordon, the deceased PGC Services employee, lived in Keswick, Ontario and was a member of the Labourers International Union of North America.