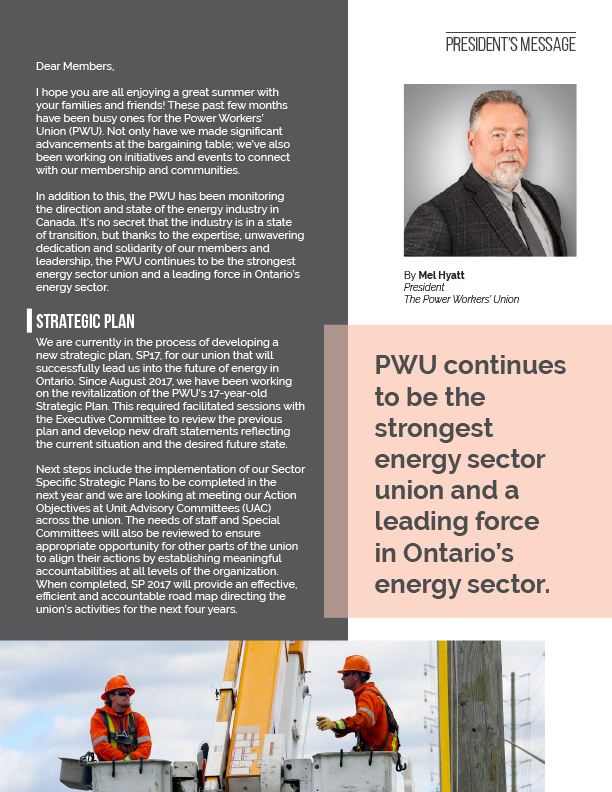 President's Message
I hope you are all enjoying a great summer with your families and friends! These past few months have been busy ones for the Power Workers' Union (PWU). Not only have we made significant advancements at the bargaining table; we've also been working on initiatives and events to connect with our membership and communities.
In addition to this, the PWU has been monitoring the direction and state of the energy industry in Canada. It's no secret that the industry is in a state of transition, but thanks to the expertise, unwavering dedication and solidarity of our members and leadership, the PWU continues to be the strongest energy sector union and a leading force in Ontario's energy sector.
STRATEGIC PLAN
We are currently in the process of developing a new strategic plan, SP17, for our union that will successfully lead us into the future of energy in Ontario. Since August 2017, we have been working on the revitalization of the PWU's 17-year-old Strategic Plan. This required facilitated sessions with the Executive Committee to review the previous plan and develop new draft statements reflecting the current situation and the desired future state.
Next steps include the implementation of our Sector Specific Strategic Plans to be completed in the next year and we are looking at meeting our Action Objectives at Unit Advisory Committees UAC) across the union. The needs of staff and Special Committees will also be reviewed to ensure appropriate opportunity for other parts of the union to align their actions by establishing meaningful accountabilities at all levels of the organization. When completed, SP 2017 will provide an effective, efficient and accountable road map directing the union's activities for the next four years.