Plug'n Drive is hosting three "sneak-peek" open houses in April:
​Saturday, April 22 – 11AM to 6 PM (All-Day Test Drive)
​Thursday, April 27 – 4PM to 8PM (Test Drives 4PM – 6PM | Wine,Beer and Refreshments 6 PM – 8 PM)
​Sunday, April 30 – 11AM to 6PM (All-Day Test Drive)
​Located at 1126 Finch Avenue West, North York, Ontario, the Discovery Centre is open to the public, but also available for private bookings: corporate meetings, employee engagement programs and stakeholder receptions.
For more information on the Electric Vehicle Discovery Centre visit the Plug'n Drive website.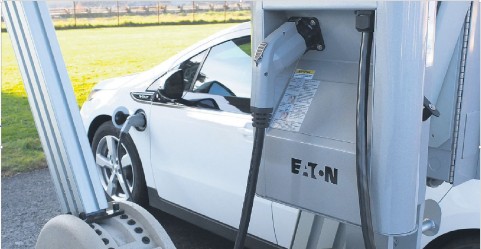 Cara Clairman has been driving her Nissan Leaf for nearly five years, and the President and CEO of Plug 'N Drive ​says the future of Electrical Vehicles (EV) is here.  When asked about the biggest barrier preventing EVs from entering the mainstream, Ms. Clairman says, "a lack of awareness and understanding of EV benefits is holding some people back."
​     "Awareness is key, she says.  "Consumers need to know about all the great options available.  Many people think they drive too far to have an electric vehicle, or they can't meet the charging requirement at home.  Nothing could be further from the truth.  Most people – nearly 80 percent – drive fewer than 50 kilometers a day and can charge their cars at home or on the go at malls, markets and restaurants while they go about their day."  "Infrastructure is the second barrier," she says.  "We need more public charging stations to enable long-distance travel.  Fortunately, most jurisdictions are installing more."
​     Workplace charging is also essential to help employees drive electric.  People with access to workplace charging stations are six times more likely to adopt an electric vehicle. Yet there's little question that charging stations are coming, with the help of a company that five years ago installed stations the length of the Trans-Canada Highway to allow EV drivers to charge their vehicles at no cost. Others are following suit and the provinces are getting on board.  Ontario invested $20 million in the Electric Vehicle Chargers Ontario (EVCO) grant program and is working with public and private partners to create a network of fast-charging electric vehicle stations in cities, along highways, at workplaces, at condominiums, and in public places across Ontario.
​     "Helping Ontarians shift to low-or zero-emission vehicles is vital to achieving Ontario's greenhouse gas pollution reduction target of 80 percent below 1990 levels by 2050," says Jill Hughes, director of the Ontario transportation ministry's policy branch."  "Moving to a more sustainable transportation model is critical in supporting the adoption of electric vehicles and is one of many actions the government is pursuing under its Climate Change Action Plan," Mr. Hughes says.